UHDB care helping to improve the quality of life of patients battling the effects of major migraines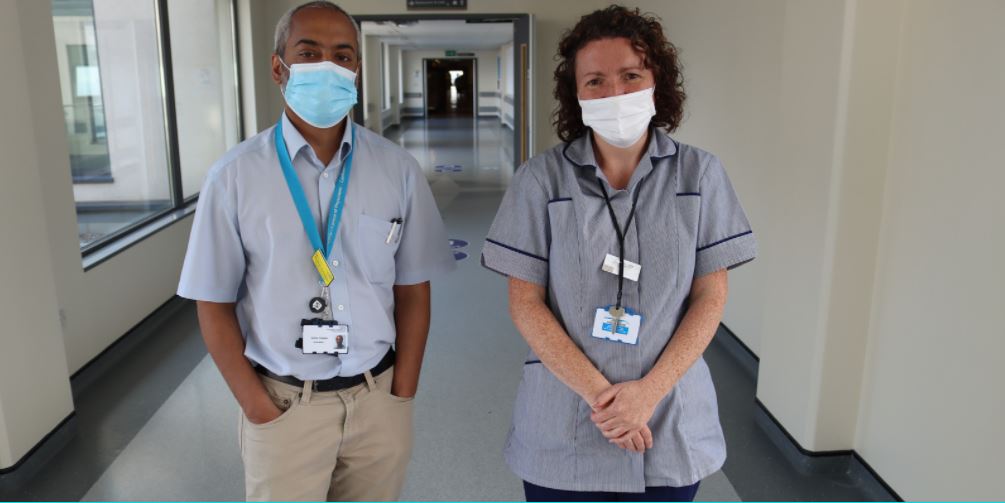 The newest available treatments for people suffering with severe migraines are now being offered at UHDB and are helping to "change the lives" of these patients for the better.
Nearly 100 patients with chronic or high frequency episodic migraines have been offered or received a new treatment at the Trust over the last year that has made a huge difference to the vast majority – who had all previously struggled to find a treatment that worked for them.
Calcitonin gene-related peptide (CGRP) targeted therapy is now available at UHDB for these patients, with these targeted treatments coming in the form of a monthly injection to the arm, leg or stomach that can be easily administered by the patient themselves in their own home.
Many people who have suffered with migraines over the years will have had to take preventative treatments but won't have taken anything specific for this "debilitating" condition, so having CGRP targeted therapy accessible to them will make a huge difference to their lives.
Being able to administer their injections at home, with support over the phone from the Headache Service at Royal Derby Hospital, has also helped to improve patient experience by reducing the need to go into hospital.
Sarah Kelly, Headache Nurse Specialist, said: "For so long, migraine sufferers have had to rely on preventative treatments but there's never been specific, targeted treatment for migraines like this. It's brilliant news that we're able to offer this new treatment and that it's accessible to people.
"By allowing them to receive treatment at home, patients aren't having to come into hospital as they once would've done, and we can instead monitor them over the phone to see how they're getting on. It is very simple to administer and is something that doesn't affect your daily life – you do it once a month and then you can carry on with your normal day. Patients have frequently told us that this has changed their lives. From the feedback, it's impacted their whole life in so many ways, which is just fantastic to hear."
All patients are monitored over the phone on a regular basis and are able to make contact if needed with the Headache team, who are also able to offer other types of treatments besides CGRP therapy for severe headaches and migraines, such as Botox therapy.
The Trust sees hundreds of people with migraines each year and was recently named by The Migraine Trust charity among the top fifth of 128 NHS Trusts nationwide for specialist migraine care.
Around 80 patients have been offered CGRP therapy treatments at UHDB since October 2020 – some following referrals from other Trusts in the region – with the vast majority seeing improvements from the monthly injections and some ceasing having migraines altogether as a result.
Sarah added: "It fills me with a real sense of pride that we're able to offer this to our patients at UHDB. I get migraines myself, so I know how debilitating they can be. When you get told by someone that their life has changed because of your care, it's fantastic.
"Often, you feel like you can't help somebody because it's not a quick fix with headache management, but to hear from someone that they're now functioning and are able to get out of their house – go to work; go socialise – it's brilliant and makes me feel like we're making a real difference."