New state-of-the-art Hybrid Theatre at Royal Derby Hospital welcomes first patient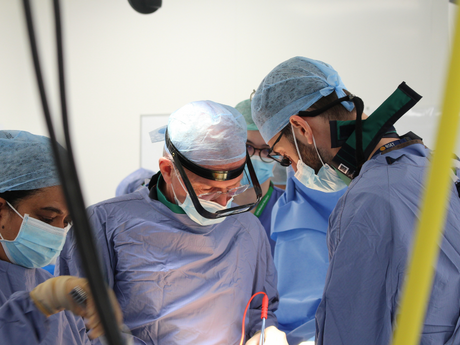 The new Hybrid Theatre at Royal Derby Hospital has begun welcoming patients through its doors following 10-months of construction and engineering works.
The £2.9 million theatre, which is located next to the General Theatres suite, houses state-of-the-art equipment which allows clinicians to carry out more sophisticated, complex vascular and cardiology procedures, such as the insertion of pacemakers.
Theatre equipment, provided by Philips, is some of the newest, most advanced available and as such, the new theatre will be used as a training and reference centre for Philips – meaning healthcare professionals from across the country will be using this facility as a blueprint for other organisations to follow.
Mr John Quarmby, Consultant Vascular Surgeon and Clinical Director for General Surgery and Urology at UHDB, says the opening of the new facility is a huge benefit to the Trust and the communities we serve:
"This new theatre is absolutely incredible and will be a real asset to us here, helping us to improve the patient experience and increase the types of procedures we're able to offer to patients.
"As a Trust we serve a patient catchment area of around 1.4 million vascular patients across Derbyshire and Staffordshire, so to have this brand new, highly specialised equipment at our disposal is a huge benefit to the quality of care we can provide to our communities.
"Often vascular operations require the input from colleagues in Radiology, which historically has
required patients to have a second hospital attendance weeks after their initial procedure to complete their treatment. However, this new theatre allows us to combine both aspects of surgery in one theatre session, meaning the patient's recovery can begin sooner, which is a real bonus."
The first procedure took place on Tuesday 27 September, with 81-year-old Alan Tate from Alvaston being the first patient to be treated in the new facility. Mr Tate was being treated for claudication in his lower right leg, which is a tightening pain in the calf and foot which can be debilitating.
Mr Tate explained: "Up until around four years ago, I used to do a lot of walking at a brisk pace, but the problem escalated to the point where after a few hundred yards, the issue started. I couldn't walk quickly at all, and could just about manage getting around the house, but it started getting progressively worse.
"Initially it just felt like a small stretching in my calf, but it got worse over time. It's stopped me from being mobile and from doing my hobby, which is playing golf."
The procedure, called an endarterectomy, involved surgeon Mr Quarmby cleaning out of an artery in the patient's groin to increase blood flow to the rest of the leg. This was then combined with an interventional angioplasty, performed by Dr Pete Bungay, an Interventional Radiologist, all in the same theatre session. Mr Tate's procedure was a success and, while recovering on Ward 308, he was full of praise for the staff involved in his care.
He said: "It's been no trouble at all. The staff here have been great and I really appreciate everyone's efforts."

Mr Quarmby, who carried out Mr Tate's operation, added: "Normally for this procedure, Mr Tate would have had to wait for quite some time between the two separate elements - but this time we reduced the risk of complications by carrying out all aspects in one theatre session, which not only saved the patient a second hospital admission and improved their patient experience, but also saved the Trust time and money, so it is a really beneficial investment."
As part of the installation of the new operating theatre, a staff rest area has also been expanded and refurbished, offering our hard-working theatre teams a spacious and relaxing area to take their well-deserved breaks.
Nicki Nichols, Programme Manager for the Hybrid Theatre project, said: "Construction on the theatre began back in November 2021 and, despite delays caused by the ongoing impact of Covid-19, we've been able to deliver the project on time which is a huge credit to the entire team here at UHDB, as well as our construction partners at Galliford Try and the engineering team from Philips.
"The theatre itself is an incredible space which we're incredibly proud of, and we hope that the improved rest area for staff will be a much-welcomed addition for our dedicated and hardworking colleagues."
UHDB Chief Executive, Stephen Posey, said: "I am delighted that this innovative theatre is now operational and already providing benefits to our patients. I met some members of the team who have helped to turn this former roof space into a theatre environment during my first few weeks at the Trust, and I am extremely grateful to them all for their hard work in bringing this state-of-the-art facility to Royal Derby Hospital."