'Compassionate' George presented with Stephen Posey's first CEO Award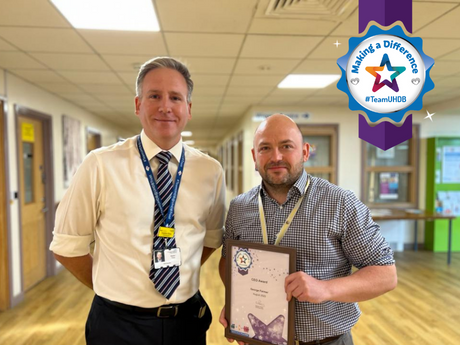 A member of the leadership team at Sir Robert Peel and Samuel Johnson Community Hospitals has been presented with our latest monthly CEO award – the first awarded by our new Chief Executive, Stephen Posey.
George Farmer, Community Programmes Manager, has been recognised for showing great compassion in his leadership of the teams at our Tamworth and Lichfield sites, as well as the incredible work he is doing to improving the services available to our communities in Staffordshire.
In what was a huge surprise, CEO Stephen Posey presented George with his first CEO Monthly Making a Difference Award in front of a number of George's smiling colleagues at Sir Robert Peel Community Hospital this week.
Upon receiving his award, George said: "I'm really surprised but immensely proud to have been given this award. Our community hospitals play a big part in patient care across UHDB and the wider NHS system and it's a real privilege to be able to lead the teams and changes we're making to increase our contribution to further develop our offering to our communities."
Stephen Posey, Chief Executive at UHDB said: "I met George during my first week at UHDB and was so impressed by his energy and enthusiasm. George's compassionate leadership approach is hugely valued by the teams he works with at Sir Robert Peel and Samuel Johnson Community Hospitals. Since taking on the new role of Community Programmes Manager in August 2021, he's shown exceptional commitment in making sure our community hospitals are best placed to meet the needs of our communities. He listens and acts to continually make improvements including some huge scale things such as increasing theatre capacity and introducing new outpatient clinics which have undoubtedly improved the care we provide to patients.
"He's a valued member of the team because he listens and acts, and because he's responded to feedback and - has even been able to get chips on the catering menu.
"George role models our values of Compassion, Openness and Excellence in an exemplary fashion, and I'm delighted to recognise him with my first CEO award."
Here's how you can nominate a colleague for one of our Monthly Making a Difference Award
If you would like to nominate a colleague or team for a Monthly Making a Difference Award, please let us know. There are four monthly Making a Difference Awards categories:
Chief Executive Award – chosen Chief Executive, Stephen Posey
Patient Hero Award – nominated by patients
Team UHDB Award – you can nominate your team or another team
Excellent Employee Award – you can nominate your colleagues
You can send a 300 word nomination, along with the name of the team or individual, their job title and where they work, to: uhdb.employeeawards@nhs.net.