Dedicated nurse receives award for effortless care to young patient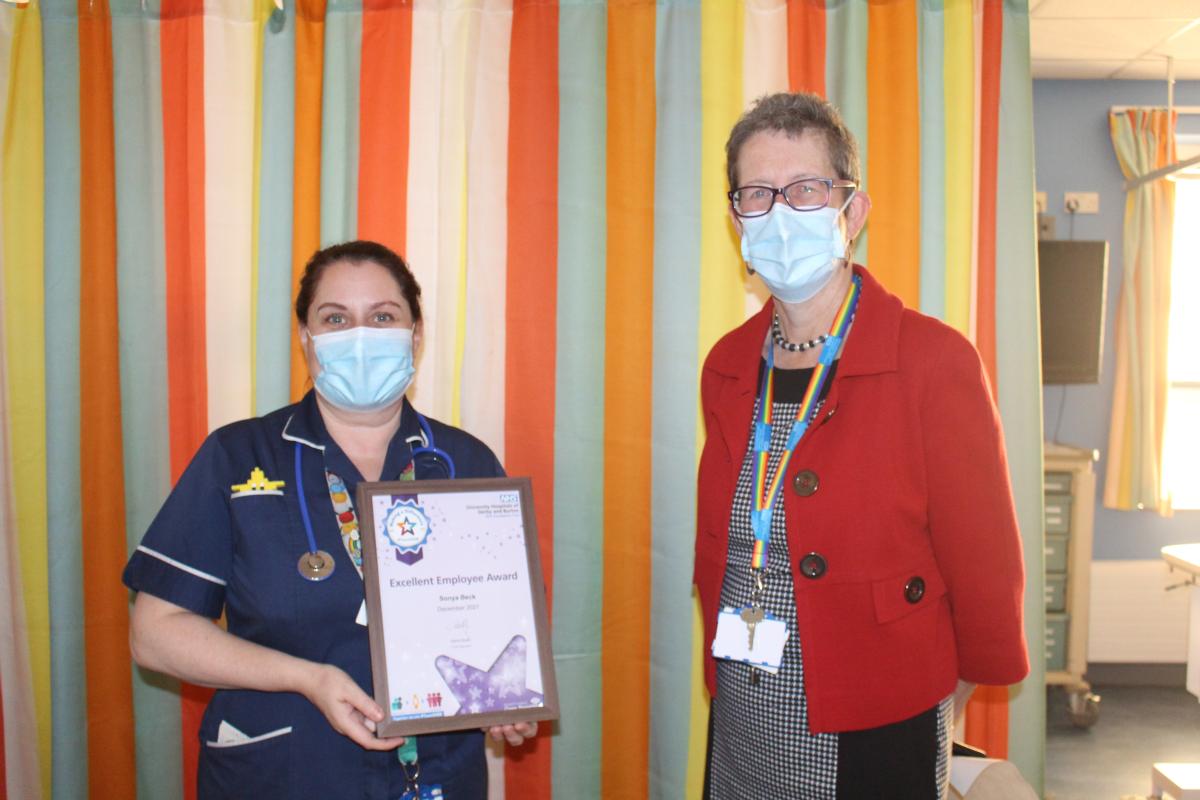 A paediatric nurse at Royal Derby Hospital has been recognised for going above and beyond to care for a sick 11 month old and has received the Excellent Employee award for her efforts.
William, patient, was in hospital for six weeks with pneumococcal meningitis under the care of Sonya Beck on the Dolphin Ward.
The nomination, sent in by William's parents, read: "It is every parent's worst nightmare to have their child fall seriously ill, and this is something Sonya understood instantly.
"Sonya would support us on a constant basis, walking us through each step of the journey such as providing information and advice.
"With the challenges of the pandemic, we could only have one parent on site at the hospital at a time, which of course made it particularly tough.
"However, Sonya did so many things which probably meant nothing to her but meant the world to us. She made us smile with her constant jokes and anecdotes about her family, particularly what her children get up to.
"She would cuddle William whilst we'd nip off to the toilet and to make a hot drink; she played with William when he was well enough, and would sing him songs.
"She even organised us a little party with the sensory machine, music, cards and presents for William's first birthday.
Due to complications with William's IV lines, the family spent an increasing amount of home leave in the ward.
The nomination continued: "Everything that Sonya did, she did with care. It made our time at the hospital more manageable.
"William has gone on to make a full recovery but we're only just processing and coming to terms with what we've been through this year.
"Sonya stood out as the star that she is and we would love for her to be recognised for the contribution she makes to parents and childrens' lives every day."
Kathy McLean, Chair at UHDB, wanted to present Sonya with her award in person to thank her for her effortless care and warmth to this family who were in need of support during such a difficult time.
She said: "It was a lovely nomination to read, especially given the circumstances of covid too making it even harder for the family."
The award presentation was a complete surprise to Sonya and brought her to tears, she said: "I can't believe it!
"Everything I do is for those patients and their families to make things that little bit easier for them."
If you would like to nominate a colleague or team for a Monthly Making a Difference Award, please let us know.
There are four monthly Making a Difference Awards categories:
Chief Executive Award – chosen by Gavin Boyle
Patient Hero Award – nominated by patients
Team UHDB Award – you can nominate your team or another team
Excellent Employee Award – you can nominate your colleagues
You can send a 300 word nomination, along with the name of the team or individual, their job title and where they work, to: uhdb.employeeawards@nhs.net.