Fantastic Theatre Teams recognised for their Outstanding Contribution to UHDB's fight against Covid-19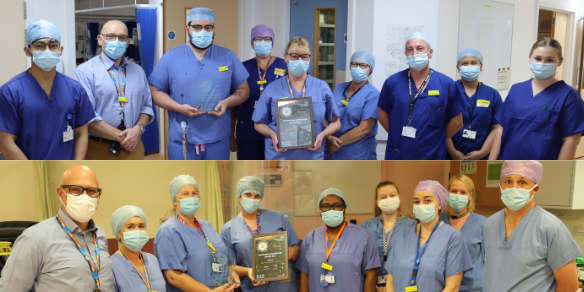 The last 18 months have been extremely tough for our Theatres teams at UHDB as the emergence of Covid-19 has required them to completely alter the way that they work.
There have been vast changes to the way that we use theatres over the past 18 months, with these areas instead being used to provide vital additional capacity to treat patients with the virus – at a time when it was needed most.
As the numbers of mechanically-ventilated beds increased from 22 to 129 across the Trust, colleagues in Theatres have had to completely adapt the way they work to allow for the ICUs at our Derby and Burton sites to be expanded.
On top of this, members of the Theatres team have also been redeployed to Intensive Care themselves at various stages of the pandemic, in order to help support staff safely care for some of our most poorly patients, with and without Covid-19.
It was only right then that our Theatres teams were recognised for their Outstanding Contribution at last month's virtual annual Making a Difference Awards, with Dr Magnus Harrison, Executive Medical Director and Deputy CEO, presenting the Burton team with their award in person this week.
Nicky Clarke, lead practitioner in QHB Theatres, said: "I would just like to thank the whole team for everything they've done. They've all come together; they've all worked so hard together, and everybody's contributed. It's been a very challenging year for all of us but we're all looking forward to a better one next year now!"
Gavin Boyle, UHDB Chief Executive, stopped by the Derby team to hand them their award.
Jon Clarke, Theatre Manager at RDH, said: "I'm amazed at the effort our staff have put in over the last 18 months. It is truly appreciated. Everyone, without fail, has gone that extra mile and we're really proud of all of the team."
Gavin added: "There are two parts to why the Theatres teams have won our Outstanding Contribution Award. One is for all the support they've given to ICU over the last 18 months, but the other is for all the work that they're doing now to recover. I'm conscious that everybody is concerned about the backlogs of patients, but I know that my theatre colleagues are all working incredibly hard to make inroads into that and to look after all those patients as well.
"I just want to thank the teams for everything that they've done and to recognise their outstanding contribution."