First bulb planting ceremony takes place at Royal Derby Healing Garden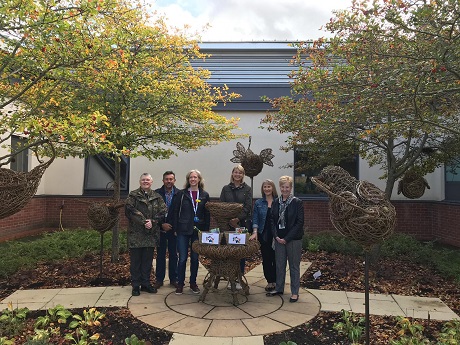 Staff and families came together for the first bulb planting ceremony at the Royal Derby Hospital's Healing Garden this weekend (Saturday 28 September).
The Healing Garden is a joint project with the End of Life Team and Air Arts, is a quiet area with flower beds, paving stones, willow-weaved birds and a commemorative bench where staff and patients can plants bulbs in memory of a loved one who has died at one of our hospitals.
The garden was opened by our CEO Gavin Boyle in May 2019 and was recently crowned as winners of Charity Project of the Year at UHDB's first annual Making a Difference Awards at the Pirelli Stadium in Burton.
This was the first planting ceremony held since the garden's opening, with around 40 families in attendance.
Karen Bussooa, End of Life Facilitator at UHDB, said: "It was fantastic to see families come along to plant bulbs at the ceremony. The Healing Garden provides families and staff with a quiet place in the busy setting of the hospital to reflect and remember, so I'm thrilled to see so many people keen to contribute and help it to become an even more special part of the hospital."
You can view a full list of winners for the annual Making a Difference Awards here.
If you would like to raise funds for the Derby and Burton Hospitals Charity, please contact the team on 01332 785 731 or email uhdb.charity@nhs.net.
If you would like to attend the opening ceremony, please contact the Communications Team via email uhdb.communications@nhs.net or call 01332 785 851.