New digital surgical pre-op form benefiting colleagues and patients at Royal Derby Hospital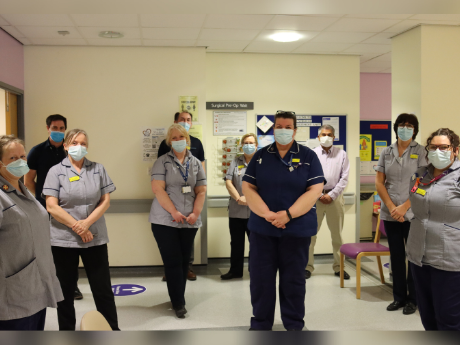 A new digital surgical pre-op assessment is helping staff at Royal Derby Hospital streamline their service and provide an improved experience for patients.
All patients who are to be admitted for elective surgery will undertake a pre-op assessment to ensure it is safe for them to undergo their planned procedure. This is led by a nurse and has historically been recorded on paper, but the team has been working hard over the past year to move this to a digital form to make it more easily accessible to colleagues in different departments.
Angela Gent, Senior Sister in Surgical Pre-Op, said: "The booklets that these assessments were filled out in is inserted into the patient's paper notes and once these leave our department, we have no documentation about the patient and cannot make changes to their assessment if needed.
"Now, with the assessment available digitally, it feeds in to other clinical systems, such as NHS Attend Anywhere, and means that colleagues from different departments and teams can access our assessment which really helps to save time.
"A lot of our work has to be done in a face-to-face setting, such as taking blood tests, but this tool has helped us to do more triaging from a distance and it's made a huge difference to the team."
The electronic assessment is completed in Lorenzo and then uploaded to Cito and ecasenotes so that it can viewed alongside other information, such as the patient's GP referrals, summary of care and multi-disciplinary team (MDT) letters.
Work on making the assessment available has been on-going during the pandemic, and it went live in early 2021. Despite being worked on at an extremely challenging time, Angela believes the way in which staff have been encouraged to work during Covid-19 has helped to make this innovation become reality.
She said: "Covid-19 has meant that we've had to make so many changes to the way we work, often on a daily basis. This has helped us to make the changes to our assessment on a rolling basis.
"Many members of our team were also redeployed to ICU, Step Down Unit, Surgical Assessment Unit, Covid wards and the Vaccine Hub during this time which meant our resources have been stretched. However, the team has taken everything in their stride and adapted really well to everything that's come their way.
"It's hard to sum up but this is a fantastic achievement for our staff and the Trust and will be really beneficial for patients, too."
The new electronic form currently covers all patients coming in for elective procedures in Surgical Pre op Assessment, but Angela hopes that it could be used more widely going forward:
"Hopefully in the future, we can bring all specialities together to use this new form so that we can roll it out across the whole of the Trust."