Trust says farewell to pioneering Chief Nurse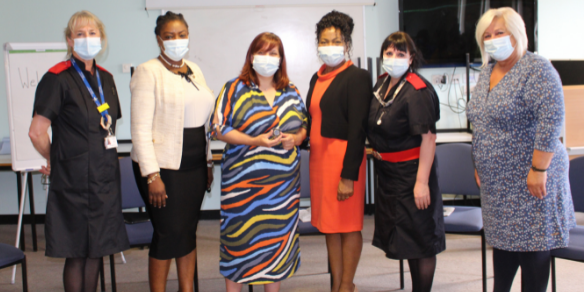 After 13 years of dedicated service to the people of Derbyshire and Staffordshire, Cathy Winfield MBE has hung up her UHDB tunic for the final time as she leaves for a new adventure.
Cathy will start a new role as Chief Nursing Officer for the South Yorkshire Integrated Care Board. She has been an inspirational nursing leader and has played a key role in making UHDB a great place to work, learn and receive care.
On her final day at the Trust she was also surprised by Jacqueline Dunkley-Bent, Chief Midwifery Officer for NHS England and Improvement who presented her with the Chief Nursing Officer's Silver Award in recognition of her service.
Cathy's nursing career started in 1993 when she qualified as a Registered General Nurse from Bloomsbury and Islington School of Nursing and Midwifery in London, before going on to specialise as a Haemato-oncology nurse, working at the Middlesex Hospital. She has held several nurse leadership roles in Nottingham and joined UHDB, formerly Derby Teaching Hospitals, in 2009.
Dr Magnus Harrison, Interim CEO, said: "Cathy became Chief Nurse and Director of Patient Experience Derby Teaching Hospitals in May 2013 and immediately brought a unique approach to the Trust Board.
"Her ability to cut through noise and focus on the things that really matter, our patients and our people, is inspiring. No matter what the discussion Cathy makes sure we focus on delivering exceptional care to our patients. She's achieved so much through her time at UHDB and is highly regarded as a Nurse and an inspirational leader both here and nationally. I wish her all the best in South Yorkshire."
Cathy's visionary approach has supported the Trust to expand its nursing workforce by developing the Nursing Associate development role, working with volunteers to provide insight into a career in the NHS and recruiting overseas nurses – having welcomed over 450 nurses from the Philippines.
Nationally, Cathy has received royal recognition for her service to Nursing and was awarded an MBE in 2020. She is also one of the first Nurses to be appointed as a Chief Nursing Officer Executive Nurse Fellow, working with Ruth May at NHSE/I.
The Chief Nursing Officer's silver award was presented to Cathy by Jacqueline Dunkley-Bent, Chief Midwifery Officer for NHS England and Improvement.
Cathy said: "It's been the most phenomenal 13 years working here across Derbyshire and Staffordshire.
"I am a massive Foo Fighters Fan, and there are some words in one of their songs that really resonate with me and make me think about UHDB, there's a song called my hero. One phrase stands out from this, "my hero watch him as he goes, my hero he's ordinary", and that's what we are here at UHDB, we're really ordinary people doing really fantastic things."