'Covid is very real' - Christine becomes 3,000th patient to be discharged from UHDB.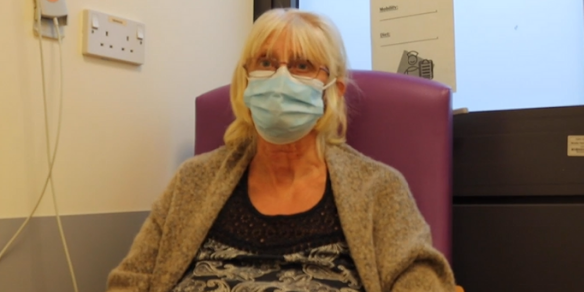 Over 3,000 patients who have been cared for by Team UHDB have now been discharged from University Hospitals of Derby and Burton to continue recoveries from Covid-19.
Christine Cullen, 67, from Normanton, was the Trust's 3000th patient to be discharged from hospital after being admitted to the Royal Derby Hospital on Christmas Day.
Christine, who lives with her husband and daughter, had started to develop symptoms of Covid-19. On Christmas Day, she struggled to even walk to the toilet, that was when her daughter rang NHS 111 and an ambulance was called. When she arrived at Royal Derby Hospital, it was confirmed she had Pneumococcal Covid-19 Pneumonia.
Throughout her two and a half week stay in hospital, Christine spent time on Ward 101, our High Dependency Unit and Ward 402 and could not praise the staff enough. The 67 year old said: "The staff, I cannot praise any of them high enough. They are absolutely fantastic. They all work so hard."
"Covid is very real; it can affect different people in different ways. It's a hard journey. A really hard journey. But if you persevere, you listen to the staff, do what they tell you, then you can prove that you can get home."
"Anyone with Covid-19 will know that anything you do is a small achievement, even breathing properly. You don't realise until you have had Covid-19 how much it really does affect you."
Christine cannot wait to go home and be reunited with her family. She has requested her first meal at home to be a Christmas Dinner after a "not so merry Christmas" which saw her be admitted to hospital. She said: "To go home is fantastic. It will be nice to be able to join all of the family again."