Derby Brother and Sister reunited on same hospital ward after over a year apart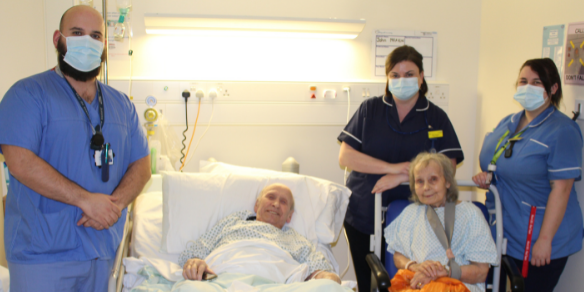 Derby born brother and sister who hadn't seen each other in over a year have been reunited after coincidentally being admitted on to the same ward at Royal Derby Hospital.
John Meakin, 78, from Chaddesden and Joan Sanders, 80, from Alvaston hadn't seen each other in over a year due to the ongoing lockdown and health conditions, only to be reunited on the same ward on recent hospital admissions.
John, who is one of seven brothers and sisters, said: "My wife June thought it was ever so strange that Joan hadn't phoned to see how I was getting on in hospital – that's because she was also in hospital too, we just didn't know it!"
"I was moved from one bay to another, my daughter came to visit me, and when coming to visit me, she noticed that Joan was in the bay opposite me! She couldn't believe it when she saw her Dad and Aunty on the same ward together!
"It's been so lovely to be reunited – totally ace to see my sister face to face again instead of just hearing her voice down the phone!"
Joan, who used to work as an "Inspectress" on the Rolls Royce RB211, said: "I just want to say a massive thank you to the Nurses who have helped make this happen – the last thing I expected when I was admitted to hospital was to be reunited with the only brother I have left.
"I cried when I was bought round to see John – its been so overwhelming, but so lovely to catch up and reminisce on old times, especially after it being so long since we last saw each other."
Senior Sister on Ward 203, Dani Poxon, who helped facilitate the reunion, said: "It's been wonderful to reunite them both. They were both quite low when on the ward – they didn't know that they were here together until we had to move John to an alternative bay – his sister was in the opposite bay, if we hadn't have moved John, this coincidental reunion may never have happened!

Its so lovely to see them chatting away and smiling from ear to ear. That is what this job is all about – making a difference."