Award winning audiologist Piyush praised for his commitment to improving patient's quality of life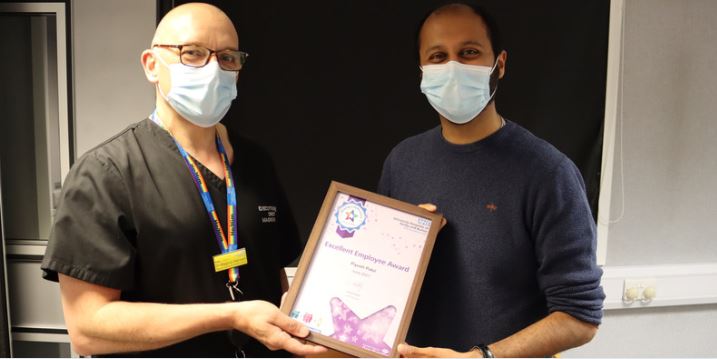 A patient who has struggled with hearing loss for a number of years has singled out a Royal Derby Hospital audiologist for praise after he helped improve their quality of life.
Piyush Patel has been named as UHDB's latest Excellent Employee Award winner in recognition for the "fantastic" contribution he has made to improving this patient's hearing.
The unnamed patient nominated Piyush for the award, writing: "I have struggled with my hearing for several years and Piyush has been incredibly patient and supportive at every appointment. Despite various attempts at adjusting hearing aids and moulds, I countinued to have difficulty, but he has persevered to find a solution.
"He has genuinely listened to my concerns, as I have tried to explain how my hearing has been affected. For someone who has suffered in terms of quality of life in relation to my deafness, it is very much appreciated to have an audiologist who cares so much about his patients.
"It is a credit to the NHS, that staff who have been under so much pressure over the last year are still so committed to helping people."
Dr Magnus Harrison, Executive Medical Director and Deputy CEO, surprised Piyush with his award at RDH's Kings Treatment Centre, and applauded him for the compassion he has shown to his patients.
"This award is just to say thank you very much and please carry on your fantastic work," said Dr Harrison.
"You have been nominated for our Excellent Employee Award by a patient, who has said that you've made such a difference to their lives by helping to find them a solution to their hearing condition. This was a glowing accolade from one of your patients, so thank you very much for that."
Receiving the award, Piyush said: "I really don't know what to say! This was a really good surprise and I'm very pleased."
Jonathan Butler, audiology service manager, was also in attendance and added: "We get thanks from patients from time to time in Audiology but don't always hit the headlines, so it's really nice that this has happened. Well done, Piyush, and keep up the good work!"
If you would like to nominate a colleague or team for a Monthly Making a Difference Award, please let us know.
There are four monthly Making a Difference Awards categories:
Chief Executive Award – chosen by Gavin Boyle
Patient Hero Award – nominated by patients
Team UHDB Award – you can nominate your team or another team
Excellent Employee Award – you can nominate your colleagues
You can send a 300 word nomination, along with the name of the team or individual, their job title and where they work, to uhdb.employeeawards@nhs.net.