Supportive colleague Rachel presented with Excellent Employee Award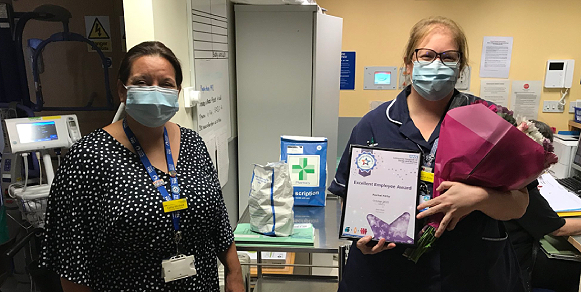 The fantastic lengths a Royal Derby Hospital Senior Sister went to in order to help and support a colleague and their relative have been recognised with a Making a Difference Award.
Rachel Kirby, Senior Sister on Ward 311, truly went above and beyond what was expected when her ward became a ward that cared for elderly Covid-19 patients at the start of the pandemic.
A colleague nominated Rachel for showing her compassion and support when her own sister was admitted on to the ward with Covid-19 on the first that their ward was turned into a ward caring for Covid-19 patients.
The nomination read: "I was working on the ward and my sister was admitted, this caused me a lot of upset and was very distressing for me.
"Rachel's leadership and caring attitude got me through this very stressful and challenging time. She helped me overcome new challenges and the fear the pandemic was bringing. She also gave me the strength to come back into work every day knowing she was there for reassurance."
Rachel was presented with her award in front of her colleagues by Cathy Winfield, Chief Nurse, who made surprise visit to the ward to thank Rachel for her exceptional work.
Rachel said: "I was only doing my job! This is so lovely, thank you."
Colleagues have said that Rachel always goes above and beyond and is always supporting her staff in whichever way she can.
If you know a UHDB member of staff or team who should be recognised for their exceptional work, you can nominate them for a monthly Making a Difference Award by emailing uhdb.employeeawards@nhs.net